'For me, there is no rest and recovery'
While other Olympic hopefuls are taking an opportunity for their bodies to rest and recover over the holidays, two-time gold medalist Heather Moyse remains hard at work.
The 39-year-old Moyse got a late start, only announcing in August she would make a bid to return to bobsleigh competition.
"A lot of the athletes are home taking a little bit of — although still training — taking rest and recovery over the holidays," Moyse told CBC News.
"For me, there is no rest and recovery. I'm still on that upward progression. I'm still building, still getting stronger and faster."
​Coming out of retirement
The Summerside, P.E.I. native took three years off before jumping back into training and preparing for a possible Olympic return at 39 years old.
She had hip surgery after the Sochi olympics, which has caused her some problems in training. She is a two-time Olympic gold medallist, winning back-to-back gold medals in bobsleigh at the 2010 and 2014 Olympics.
"My former teammate, Kaillie Humphries, asked me last March if I would come back and I had no intention at all, I said, 'No, I'm not interested,'" Moyse said.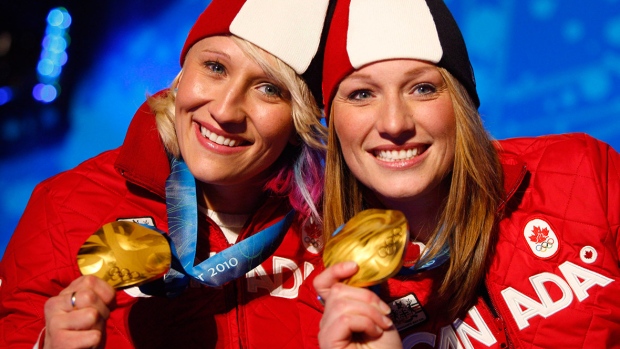 But at the beginning of August, she received an Instagram message from Alysia Rissling, an up-and-coming bobsleigh pilot, that changed her mind.
"Her message was more about leadership and passing on experience, and knowing that I've successfully managed three Olympic games before and dealing with the pressures that come with the Olympic season, not just the Olympics but the whole season itself," Moyse said.
Changed perspective
It was that message that got her to start pushing to compete in South Korea in February.
"I suddenly saw that this was an opportunity to not only invest in the next generation of athletes for Canada but to also send a message that sometimes your definitions of success need to be redefined, and they're not necessarily what other people deem as being successful but what you yourself are happy doing," Moyse said.
"So I'm really excited to come back and see if I can help get a rookie driver to the Olympics and potentially to the podium."
Moyse and Rissling showed significant improvement over their two international events in December. They finished 16th in the World Cup event in Winterberg on Dec. 9, 1.59 seconds behind the winning time over their two runs. On Dec. 16 in Innsbruck, they placed 7th, 1.14 seconds behind the pace.
They are currently ranked seventh by the International Bobsleigh and Skeleton Federation.
The team has two more World Cup events in January to show they deserve a place representing Canada at the Olympics. The team for the games will be announced in mid-January.
A NEW BOOK
Moyse has used her success in sports — not only bobsleigh, but rugby, soccer, cycling and track — to launch a career as a public speaker, and out of that has come a new book: Redefining Realistic: Shift Your Perspective, Seize Your Potential, Own Your Story.
The theme of the book is closely connected to her decision to return to bobsleigh.
"The goal is to help someone get there," she said.
"For me it just means getting myself into the best possible position I can be in order to best help someone else achieve a medal."